About Us
---
Griffin Gardens offer a professional garden maintenance & consulting service. Services are lead by Stephen Griffin qualified horticulturist and plant lover to ensure the highest standard of care for your garden.
The maintenance programs are based on the specific requirements of the trees, plants and grasses of your garden and any specific requirements you may have. I will work with you to develop your maintenance requirements, including minimum hours required to maintain the garden to your expectations.
I am passionate to realize the full potential of your outdoor spaces.

---
SERVICES
Pruning, Trimming, Hedging & Shaping
Plants are pruned according to required usage, size, shape, context, health, time of year, and the particular characteristics of each species. If you have specific pruning requirements (for example, the height of a screen or hedge) please discuss this with me.
Lawns
Lawns, grassed areas, and nature strips are edged and mown according to grass species and seasonal requirements. Fertilizing and spray programs developed to suit your individual lawn needs. Lawn topdressing and leveling may also be recommended.
Lawn clippings are always caught, however if you prefer to treat the clippings as mulch within the lawn or as compost please advise me. Caught grass clippings are treated as green waste.
Weeds
Weeds are controlled by the use of hand and chemical methods and mulching. Chemical sprays are kept to a minimum and non-chemical methods are used where feasible. This encourages a more organic approach and helps protect and encourage native bees and birds around a garden. If you do not wish me to use chemical herbicides in your garden please advise me. Weeds in hard surfaces such as paths, paved areas and driveways are sprayed with systemic herbicide.
Garden Fertilizing
Appropriate fertilizers applied to garden beds in spring, summer and autumn or as required. Slow release and liquid fertilizer applied to gardens and pots as required.
Garden Beds and Growing Media
The application of appropriate soil conditioners such as manures & composts, are applied as required. The addition of organic material to garden beds (the topsoil) is highly recommended.  Also mulching of garden beds (and potted plants) is recommended to help water retention and suppress weeds. Only horticultural grade products will be used. These requirements will be discussed with you and agreed to prior to application of any materials.
Pest and Disease Control
Each visit I will analyze any pest and disease problems and take appropriate action. Non-chemical methods are preferred but also judicious use of chemical sprays applied when necessary. Again, please discuss alternative methods with me if you prefer a 100% organic treatment.
Irrigation
Periodic system checks will be undertaken, with any necessary repairs carried out. Including timing adjustments and station checks. Batteries will be changed every six months.
Planting
Plant recommendations will be made based on the style, individual needs of your garden as required.
Clean up
Paving, pathways and driveways are cleaned by a blower.
Waste
If a council green waste bin is available, I will use this first. If a bin is not available, or green waste is generated in excess of the bin capacity, green waste removal is charged as set out in the terms & conditions. Please ensure your green waste bin is empty on the scheduled day of maintenance. If you do not currently have a bin, I recommend you contact your local council and order one.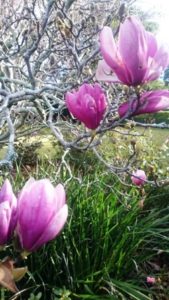 ---